📸Join FIATA in promoting the face of freight forwarding through 2023 Photo Contest!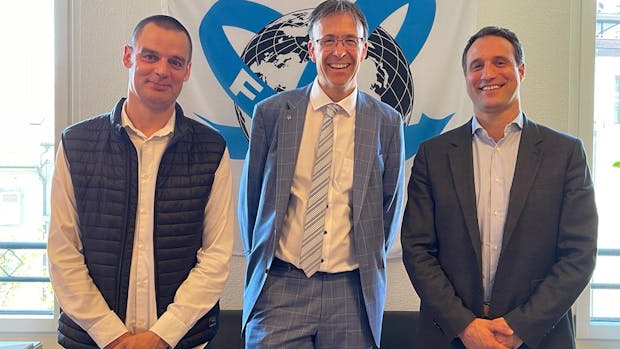 FIATA to exhibit at ICC World Chambers Congress 21-23 June - join us!
FIATA is pleased to announce that it will be appearing at the 2023 International Chamber of Commerce World Chambers Congress (jointly hosted by the Geneva Chambers of Commerce (CCIG - Chambre de commerce, d'industrie et des services de Genève) from 21-23 June at Palexpo, Geneva as a Silver Sponsor!

The Congress will be an excellent opportunity for Chambers of Commerce from around the world to come together, "with a focus on the role of business and chambers as stakeholders of multilaterlism for a sustainable and prosperous future", said Vincent Subilia, the Director General of the Geneva Chambers of Commerce.

FIATA is nurturing a very close relationship with the ICC by participating in the advisory body of the ICC DSI (Digital Standard Initiative) that recently published the KTDDE (Key Trade Documents & Data Elements) spotlighting the FIATA digital Bill of Lading (eFBL). The eFBL also demonstrates conformity with UNCTAD/ICC rules for Multimodal Transport Documents and was referred to in the "Guide for Documentary Credit Operations for the Uniform Customs and Practice for Documentary Credits (UCP 500)" of ICC (ICC publication No.515) as an acceptable freight forwarders transport document. 

FIATA counts among its Association Members around ten Chambers of Commerce and will be delighted to take this opportunity to meet with them. FIATA welcomes all members and non-members to visit its booth at the exhibition, where it will be joined by Arab Bank (Switzerland) Ltd. and Komgo to promote the eFBL and to showcase to participants and visitors its Proof of Concept that tested the transfer of an eFBL between two customers of the Bank, using different eBL platforms with the bank as an intermediary, providing a secure environment to transfer the document together with the title of the goods.

Plan your visit to Geneva and meet FIATA at the ICC World Chambers Congress to discover more about digital freight forwarders!
Raft and ICC Genesis feature in next FIATA Digital Lab!
Join the next FIATA Digital Lab on May 16, 3-4pm CET, to learn more about Raft, an intelligent freight automation platform, that empowers freight forwarders to deliver more value to customers by automating the entire freight journey for complete transparency and control and ICC Genesis, a digital certifying tool that enables exporters to go to their related Chambers of Commerce to obtain the certification of their preferential origin statement on invoice declarations.  
Join the FIATA Digital Lab LinkedIn Group for FIATA Members 
Join the FIATA Digital Lab group on Linkedin to share your feedback and continue the discussion about the different platforms/initiatives that are being presented through the Digital Lab webinars. This will allow FIATA and its members to better understand how the freight forwarding sector perceives these new tools. It is also intended as an open space for Members to discover and exchange on more digital tools, solutions and trends that can help freight forwarders in their daily job!
Join the FIATA Digital Lab LinkedIn Group here
FIATA launches Photo Contest 2023 - Win prizes! Join FIATA in promoting the face of freight forwarding globally
As part of FIATA's marketing and communications work, and to ensure the authenticity and reality of freight forwarding work, FIATA is calling for the best photos of your daily freight forwarding work and action! In this excellent opportunity to showcase the great work going on behind the scenes by FIATA Members, Members will also get the chance to win:

🏆1st Prize: A free registration to the 2024 FIATA World Congress and displaying of your photo at the Congress
💿 2nd Prize: A free registration to the 2024 FIATA HQ Meeting
🍫 3rd Prize: A box of luxury Swiss chocolates

Your photos can feature: Goods/cargo transport methods (rail, air, sea, road), warehouses, cargo and containers, digital tools/devices used for freight forwarding processes, training, legal and customs work, sustainability topics, media processes, and any other freight forwarding related work. The best photos will also be put on exhibition at upcoming FIATA events and feature on FIATA Communications content (FIATA Review, FIATA website, FIATA social media and more!).

Photo Conditions:
Photos should not feature branding of any company or organisation (with exception of FIATA)
If faces appear on photos, you MUST have the authorisation of the said person to enter their photo into the competition and for it to be publicised
The maximum file size should be 15MB (compression is allowed)
The file should be sent in PNG format
Submitted photos will receive full accreditation of the photo author, unless otherwise requested
CTU Quick Guide - Why is it important for forwarders?
In February 2022, FIATA and BIC (Bureau of International Containers) became members of the Cargo Integrity Group (CIG), alongside its other members the Global Shippers' Forum, Container Owners Association, International Cargo Handling Coordination Association, TT Club and the World Shipping Council.

One of the main aims of the group is to raise awareness of safe packing practices, and for this reason the group developed the 'CTU Code – A Quick Guide', which is widely considered the most comprehensive source of information on the best way to pack, handle and transport goods safely.
 
The guide is intended as a road map for the industry to engage more effectively with the Code. If you are working in the transport and logistics industry, this is a must read!
Agenda
Upcoming events:
8-12 May ¦ UNCITRAL Working Group VI (Negotiable Multimodal Transport Documents), 42nd session
30 May-1 June ¦ ICAO Global  Implementation Support Symposium 2023
 8-10 June ¦ 49th Executive Council meeting and Annual General Meeting of the Federation of Asia-Pacific Air Cargo Associations
19-21 June ¦ WCO Private Sector Consultative Group and Policy Commission meetings
21-23 June ¦ World Chambers of Commerce (WCC) Congress
30 June ¦ FIATA Statutory General Meeting