FIATA joins UNCITRAL meeting to consider negotiable multimodal trade document provisions
FIATA e-flash
22 May 2023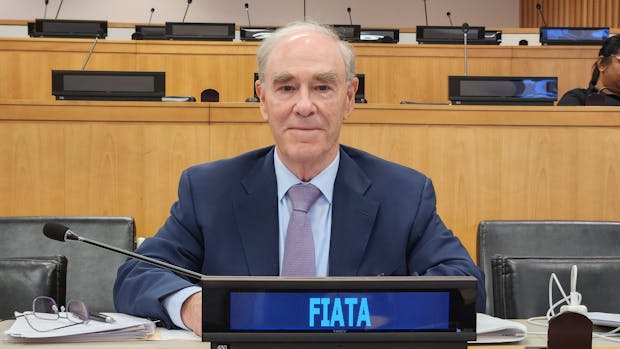 FIATA calls for member voices to assess readiness of air cargo: ICS2 Release II 
Following the United States of America's (US) implementation of the Air Cargo Advance Screening Program (ACAS), the air cargo industry anticipates that multiple countries will strengthen air cargo security and safety risk analysis by implementing Pre-Loading Advance Cargo Information (PLACI) programs. The new European Union (EU) PLACI regime - Import Control System 2.0 Release 2 (ICS2 Release II), which applies to airfreight, came into force on 1 March 2023.

ICS2 is a comprehensive customs management system designed to streamline and enhance security measures in international trade. The below survey aims to assess the readiness of the air cargo industry for the implementation of ICS2 Release II. This update aims to improve efficiency, traceability, and risk management in the transport of cargo by air.

FIATA would like to gain an overview of how prepared freight forwarders are for these changes, and how they will comply with the new regulation. Kindly take a couple of minutes to answer this survey so that FIATA can support your companies effectively in the implementation of this regulation.
Take the survey and have your say!
FIATA joins UNCITRAL meeting to consider draft provisions of negotiable transport documents

From 8-12 May, FIATA, represented by FIATA Vice President Richard Glück, participated in the UNCITRAL Working Group VI in New York to consider draft provisions in respect of negotiable multimodal transport documents.
 
The project has been ongoing in recent years due to the demand to facilitate trade financing based on letters of credit, payable against presentation of negotiable transport documents for intermodal rail shipments moving between China and Europe. Problems have arisen due to rail transport contracts ('consignment notes') in the region not being capable of being negotiable documents.

FIATA has been a longstanding and active participant in this project, which could have important positive benefits for the harmonised international legal recognition of the FIATA Multimodal Transport Bill of Lading ('FBL'). FIATA was pleased to note that, among others, the Working Group expressed strong preference for a model similar to the FBL, whereby the issuance of a negotiable cargo document as a single document is combined with the contract of carriage, unless existing law prohibits the transport document from being negotiable.

It was foreseen that the document would be allowed to cover either unimodal or multimodal transport, and that rules would also be included for the use of electronic negotiable cargo documents.
 
Further information will be provided in the upcoming FIATA quarterly legal newsletter, the 'FIATA Focus'. The UNCITRAL Working Group VI will continue its drafting work in Vienna later this year.
Successful FIATA Digital Lab webinar informs members of cutting edge technologies to support forwarding services
Nearly 30 members attended the last FIATA Digital Lab webinar, which took place on 16 May 2023. The participants benefited from a very insightful presentation of the ICC Genesis tool, which aims to reduce fraud risks and costs, and to facilitate smoother customs checks. The tool enables exporters to go to their related chamber of commerce to obtain the certification of their preferential origin statement on invoice declarations.

Participants then had the chance to discover Raft, a platform which aims at addressing a huge challenge faced by freight-forwarders, namely the data entry process from one system to another. Serving freight forwarding companies around the world, Raft empowers them to deliver more value to their customers by automating the entire freight journey for complete transparency and control. The platform, based on AI, automates AP invoice, customs and pre-alert workflows.

The session concluded on a positive vision: the future of freight-forwarding will be more and more human, thanks to AI, which will allow to reduce the repetitive and admin work.

Stay tuned for the next Digital Lab webinar, which will be announced soon, and do not forget to join the FIATA Digital Lab LinkedIn Group to stay up to date!
Join the FIATA Digital Lab LinkedIn group!
Last chance to donate to FIATA Türkiye-Syria Earthquake fund!
For members who have not yet had the opportunity to donate to the relief efforts carried out by FIATA's Association members in Türkiye and Syria, FIATA would like to remind you that you still have the opportunity to do so until 31 May.

Work is ongoing from the Association members to recuperate the nations which were hit hard by the 7.8 magnitude earthquake on 6 February 2023. Members can expect reports on the relief efforts in coming weeks from each Association member, channeled through FIATA's communications channels. 
Learn more, and donate to Türkiye-Syria Earthquake Relief Efforts
Explore the NEW FIATA Review here!
Agenda
Upcoming events:
30 May-1 June ¦ ICAO Global Implementation Support Symposium 2023
 8-10 June ¦ 49th Executive Council meeting and Annual General Meeting of the Federation of Asia-Pacific Air Cargo Associations
19-21 June ¦ WCO Private Sector Consultative Group and Policy Commission meetings
21-23 June ¦ World Chambers of Commerce (WCC) Congress
30 June ¦ FIATA Statutory General Meeting