Still not seen the FIATA HQ Meeting photos? Discounted flights to South Korea and more!
FIATA e-flash
4 August 2022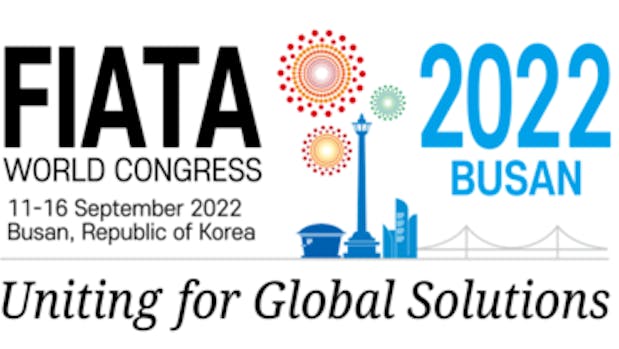 2022 FIATA World Congress: 5 to 10% discount on flights to South Korea!
If you have not yet registered to the event, we invite you to do so through the official website of the Congress on the dedicated registration page!

Travel to the 2022 FIATA World Congress (FWC) with Korean Air, the official carrier for the Congress! To benefit from 10% off on Economy tickets or 5% off on Business tickets, contact your Korean Air Regional Services Centre via phone. Check out the following webpage to find out which agency to contact in your region: https://www.koreanair.com/kr/en/footer/customer-support/service-center

Key highlights include:
Monday, 12 September to Tuesday, 13 September: Meetings of Institutes, Advisory Bodies and Standing Committees (for FIATA members);
Wednesday, 14 September: Young Logistics Professionals (YLP) session;
Thursday, 15 September: Regions meetings, followed by the 2022 FWC Opening Session
Friday, 16 September: topical panel discussions discussing important current topics including digitalisation in the logistics sector, the maritime crisis, trade facilitation and workforce shortage will be discussed (including speakers Jan Hoffmann of UNCTAD, and Céline Hourcade of Change Horizon)
More details on the programme of the event can be found here.

If you experience any issues with registration or your accommodation selection, please contact the 2022 FWC host team at: [email protected] 
Making eFBL interoperability a reality for FIATA members
In status quo, eFBL users and stakeholders need to be onboarded on the same eBL platform. Interoperability will allow eFBL users to choose between the various eBL providers and have seamless transferability from one provider platform to the other. FIATA has been working with relevant parties to make this a reality for its members.

On 19-20 July, FIATA took part in a workshop hosted by the Digital Container Shipping Association (DCSA) aimed at addressing the legal aspects of platform interoperability for electronic bills of lading (eBLs). The workshop had the participation of various stakeholders, including platform providers, FIT Alliance members, and carriers. It provided an excellent opportunity for open and collaborative discussions between legal and technical professionals to better understand the various legal considerations in the drive towards interoperability and industry digitalisation. During the upcoming months all participants will continue the collaboration on both the legal framework as well as on the technical standards and the proof of concept will be tested soon. 

Please email [email protected] with [email protected] in copy to get the distribution agreement for FIATA documents. Get licensed to distribute the eFBL for a head start and stay tuned for more updates!
In case you missed it: Take a look at the FIATA HQ Meeting Photos!
For those who missed the FIATA HQ Meeting photos in the Post-HQ brochure, you are now welcomed to view them on the designated FIATA Flickr page. 
FIATA and other key stakeholders call for immediate review of of competition rules by European Commission
On 22 July, FIATA alongside CLECAT, the Global Shippers' Forum, European Shippers' Council, FEPORT, European Tugowners Association, European Barge Union EBU, International Union for Road-Rail Combined Transport, FIDI Global Alliance and International Association of Movers signed a joint letter to the European Commission to investigate the behaviour of shipping lines regarding pricing policies and provision of services during the pandemic. They call for an immidiate review of the European Union's Consortia Block Exemption Regulation (CBER) for the container shipping industry.

'The International Transport Forum (ITF), part of OECD, has issued the attached report which shows how the behaviour of the global lines and their consortia have created an up to 7-fold increase in rates and a reduction in the availability of capacity for customers in Europe. The net profits of the shipping lines last year rose to a margin of up to 50% - a net profit of $186 billion dollars. Yet we see the shipping lines reduce their capacity to Europe further and, as the ITF report shows, the reliability and quality of their services.' read one section of the letter.

These stakeholders are not alone in voicing these concerns; China  also continues to crackdown on unreasonable price hikes in multimodal, but particularly sea transport. 'The Ministry of Transport and the State Development and Reform Committee jointly launched a crackdown of arbitrary and duplicate fees and charges levied by various parties in different modes of transport with a special focus on seaport terminals and maritime service providers, such as shipping lines, agents, terminals and depot operators, customs brokers, forwarders, etc. It also refrains shipping lines and terminal operators from abusing their oligopolistic power to impose unfair practices on their users.' according to FIATA insider sources.
In addition to the OSRA 2022, the U.S. has initiated a bill titled H.R. 6864, the Ocean Shipping Antitrust Enforcement Act, which would protect US businesses by ensuring that ocean carriers are subject fully to US antitrust laws. "Access to reliable ocean transportation is a cornerstone to the viability and success of many US enterprises, large and small. To continue the participation and growth of US businesses on the global stage, our members require competitive and dependable service from our ocean carrier partners," stated Nancy O'Liddy, National Industrial Transportation League Executive Director.
Agenda
Upcoming events: