Working Group Road discusses driver shortages, FIATA President and SVPs join Logistics for Europe event, and more!
FIATA e-flash
24 November 2022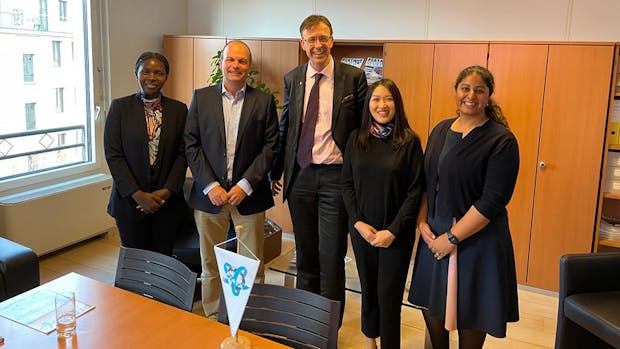 2023FIATA HQ Meeting - 'Navigating Uncertainty' - Registrations open tomorrow!
⭐ The registration to the 2023 FIATA HQ Meeting, under the theme 'Navigating Uncertainty' will open tomorrow to all FIATA Members! ⭐
09:00 CET, Saturday 18 March 2023, and finish at 17:30 CET, Tuesday 21 March 2023,
for all delegates, except Extended Board Members who will attend the Extended Board meeting in the morning of Wednesday 22 March 2023.
 
Please also note that FIATA will organise a welcome cocktail, where there will be a registration desk for the event on the afternoon of Friday 17 March 2023. The exact location of the welcome cocktail will be disclosed in the weeks to come.
Preliminary 2023 HQ Meeting Programme
2023 YLP Award information session on 28 November
Interested in becoming the 2023 Young Logistics Professional, or know someone who might be? Missed the YLP Information Session 1? It's not too late. Here comes Information Session 2. 
First of all, a huge thanks go to Justin Goedhart, Karina Pérez Pérez, and Ruvimbo Gukwe for sharing their inspiring experiences in YLP Information Session 1! Their vivid story-telling and positive vibes have encouraged the audience to "step out their comfort zone" and "take the best shot" for themselves. Their success in this event is attributed to their selfless devotion and passion for the logistics industry, and you could be the next Global or Regional Winner!
If you don't want to miss out on the amazing stories and advice in Information Session 1, join us for Information Session 2, where you will meet the above-mentioned young talents and find the opportunities to grow personally and professionally through taking part in this award competition. For more information on the award, click here.
 
Session 2 will take place on 28 November 2022 at 16:00 CET
Who's speaking at the 2023 YLP Award Information Sessions?
Tackling the ongoing driver shortage
FIATA Working Group Road delegates recently gathered to discuss the alarming issue of driver shortages, which is widespread in the global logistics industry. The existing issue of driver shortages has been further exacerbated by COVID-19, geopolitical changes and ongoing crises. Even before the pandemic, driver shortages were a serious cause for concern in the industry. The lack of drivers in the road transport industry is at an all-time high with many of its underlying issues being long-term challenges.
According to Transport Intelligence across Europe, there is a shortfall of at least 400,000 drivers.

During the meeting, the WG delegates highlighted that the drivers often face difficult working conditions, significant safety risks, low pay, as well as the incompatibility of the profession with new life concepts (work-life balance). Aspects such as difficulties to attract and recruit young drivers, something which needs to happen fast with an already aging workforce and a poor image of the profession, have been plaguing the industry for many years. 
The challenge comes when looking at how to address the immediate issues, such as supply chain impacts while also improving conditions and making sure truck drivers are not taken for granted.

The delegates agreed on the need to ensure the availability of safe and secure parking places, simplification of access to the profession, and increased multimodal solutions so that the use of road can become more efficient. 
The industry, as well as government representatives, need to find solutions together to retain and attract new drivers as well as ensure that the working conditions and the image of the profession are improved. FIATA's Working Group Road will monitor this issue closely to support the members in this regard by increasing the value and image of logistics and transport workers, raising awareness about the shortage of drivers as well as calling the governments to invest in roadside facilities.
Scam email warning - reminder
FIATA members are asked to remain vigilant of the ongoing PayPal scam email circulating the membership in recent weeks. 

FIATA does not use PayPal as a payment system for membership fees.
Click here for the details of the scam, and how to remain cybersecure.
FIATA active in Logistics for Europe event
Members of the FIATA Presidency, including President Ivan Petrov and Senior Vice Presidents Mr Turgut Erkesin and Mr Jens Roemer, attended the Logistics for Europe event in Brussels which was aimed at enabling resilient and competitive supply chains. They met and shared insights with industry representatives, including shippers, logistics experts, European law makers, academics and lawyers amongst others.
Olaf Merk, OECD-ITF, noted that competition is decreasing in the container shipping industry. He recommended that this situation needs a policy response. This is in line with FIATA's Extended Board resolution passed at the FIATA World Congress, Busan, calling for regulators to harmonise their policy responses and ensure a level playing field.
From a regulatory perspective, Henrick Morch of the EU Competition Commission, informed the audience that the CBER review was underway. Regulators will consider these two extraordinary years, but he noted that it is too early to comment on any conclusions. He also noted that the Commission has been in touch with regulators from China and the US on competition issues, and that any investigations on the negative effects of vertical integration have not yielded sufficient evidence of anti-competitive practices.
The maritime crises has brought the importance of supply chains to the top levels of boardrooms in many companies. Lennart Heip, Global Modal Leader of International Trade Operations, Dow, shared that they used to monitor average transit times only once a year before the maritime crises, and now it is every 3 months. Tracking and transparency, according to Mr Heip, is the solution to keeping shippers in the loop, and this data should be used by transporters facing delays for timely communication. The FIATA digital FBL is the first step towards such transparency.
Global Alliance for Trade Facilitation meets with FIATA to discuss future of trade
Earlier this month, FIATA HQ welcomed Philippe Isler, Executive Director of the Global Alliance for Trade Facilitation (GATF), where the two organisations shared information on trade facilitation projects, and on the ongoing work with AEOs and their mutual recognition by relevant governments.

GATF highlighted its work on trade facilitation which focuses mostly on automating and digitising cumbersome administrative procedures to reduce the cost of doing business in Africa, as well as in Asia and Latin America. FIATA welcomes this work, which aligns with FIATA's digital strategy and work on the shift towards paperless trade in all FIATA regions, which could compliment such projects.

FIATA and GATF will continue their dialogue to consider possible synergies in the interests of trade facilitation. The support of FIATA members to work together on Trade Facilitation projects in their region is also welcome. Questions regarding this may be sent to [email protected].