Cracking the paperless trade puzzle: The future is nearer than you think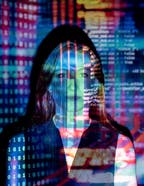 "My journey to the Digital Standards Initiative has primarily been driven by the desire to solve digitization pain points that I've seen in the international supply chain."
Hannah Nguyen, Deputy Director at the International Chamber of Commerce (ICC) Digital Standards Initiative (DSI).
Hannah joined DSI from C. Steinweg Group, one of the largest warehousing and freight forwarding companies in commodities. Her experience in the predominantly paper-based process and the inefficiencies associated with it eventually led her to head up industry engagement for standard development, adoption and advocacy within DSI. FIATA sat down with Hannah to learn how DSI is collaborating with others to advance the digitization agenda and why FIATA is an integral part of this collective effort. 
Congratulations on your new role! What are some of the insights that you have gained from the first few months on the job? 
Hannah Nguyen: This is a very fast-moving space, and I am glad to join at a time when there is a groundswell of collective effort to accelerate trade digitization. The world has been trying to digitize trade for more than two decades, with valuable lessons on what doesn't work. Despite numerous solutions on the market, the electronic Bills of Lading (eBL) currently make up just 0.1% of all issuances. This is partly due to legal impediments in most jurisdictions – but that is rapidly changing.
More countries are looking to adopt the UNCITRAL Model Law on Electronic Transferable Records (MLETR). However, a large part of the reason is lack of standardization. Every eBL technology solution out there has their own definitions on what is an eBL and specific terms governing its usage among platform users. This severely limits scalability as even the most resourceful shippers, carriers and freight forwarders cannot afford to sign up to all platforms and cater for different operating processes.  
How do we solve for interoperability then? What is the role of standards in this whole evolving picture? 
HN: There is increased recognition that without a common language and a common framework to transmit that language, much will be left misunderstood. An often-cited example is in mobile communication. Today, you can practically use any handset with any national mobile network, dial an international number and get connected to a person halfway round the world. It became so ubiquitous that we don't even blink. But think about it, that's only possible thanks to internationally applied standards which make telecommunication accessible and affordable to all.  
The same cannot be said of international trade today. Many of us are using 'closed' internal and third-party systems which do not 'talk' to one another. For multimodal consignments, for instance, there is still a lot of manual intervention and re-keying of the same data as goods pass between transport modes and actors in the supply chain. Without uniting data and process standards, the supply chain will remain fragmented and sub-optimal.  
There have been many attempts to solve this issue, albeit with limited success. DSI was set up in 2020 by ICC in partnership with the Asian Development Bank (ADB) and the Singapore Government to lead the global effort to connect these 'digital islands'. We aim to do so by creating a standard-based ecosystem which enables every actor to digitize – and optimize – at scale.  
What is DSI's strategy to make this happen?  
HN: We seek to re-use, not recreate, and to collaborate with all like-minded people and initiatives. We know for instance that FIATA is digitizing the FIATA Multimodal Transport Bill of Lading (eFBL) on open-source basis. Naturally, we support this because FIATA is best placed to undertake this important mission for the freight forwarding industry. It does not make sense for DSI to do it. Where we value-add is to boost awareness, get feedback and drive adoption of these standards thanks to our close connection with the wider business community. 
Additionally, the ICC has numerous other rules, frameworks and standards that support international trade which we can ensure are harmonized towards these standards. One example is our Uniform Customs and Practice for Documentary Credits which has a supplement for electronic presentation of documents for banks. Ultimately, all stakeholders interacting with the document, including banks, customs and regulators, need to incorporate these standards in their workflows to enable meaningful end-to-end integration. 
Besides FIATA, are there similar organizations that you are working with in this shared endeavor? 
HN: It is very important to achieve alignment and interoperability among interconnected sectors and players. FIATA is not creating the multimodal eBL in isolation but actively discussing with peers who are engaged in a similar process. The Digital Container Shipping Association (DCSA) recently launched eBL standards for container shipping and the Baltic and International Maritime Council (BIMCO) is working on the equivalents for dry and liquid bulk. 
It certainly sounds like collaboration is crucial. How do you ensure that existing standards and those in the making, such as the eFBL will see significant adoption to move the needle? 
HN: We are actively pairing standards development efforts with advocacy and education. Last August, DSI established a new Industry Advisory Board (IAB) with cross-regional and cross-industry representation to facilitate acceptance and adoption of common standards. This board won't be complete without FIATA at the table, and we are proud to have Dr Stéphane Graber join the IAB. We also place big emphasis on education. Standardization is only effective when the world knows how to apply. In this respect, we are working with multiple knowledge partners to produce relevant training in a near future.  
We have talked a lot about the private sector. What is the role of the public sector?  
HN: Governments and intergovernmental organizations have a big role to play in terms of international collaboration and alignment of domestic legislation to the UNCITRAL MLETR. We have seen a huge surge in political will to leverage digitization for post-pandemic economic recovery. It is one of those rare topics where the zero-sum mindset does not apply. In fact, the more jurisdictions create an enabling environment for digitization to happen, the bigger the multiplier effect will be.  
For our FIATA Review readers who are keen to get involved, what would you advise them to do? 
HN: Do come forward to support FIATA's digitization effort, make use of the standards in your operating model, and if you think they can be improved, make sure to contribute your feedback! If you can imagine it, you can co-create it. The future is almost here, and we need all hands on deck to drive this huge endeavour forward.