FIATA eFBL goes far and wide, maritime dialogue registration, and more!
FIATA e-flash
4 November 2022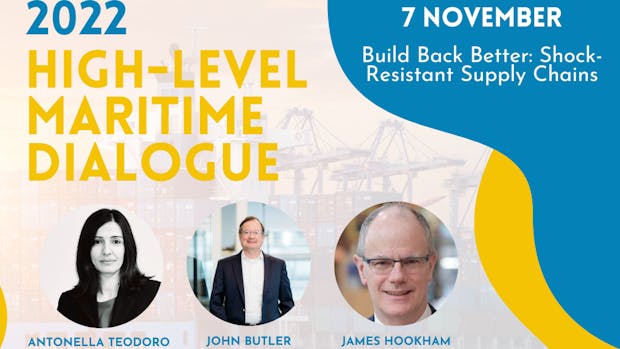 Do not miss the Build Back Better: Shock-Resistant Supply Chains maritime dialogue next week!
We look forward to seeing you at the upcoming High-Level Maritime Dialogue this coming
Monday 7 November at 14.00-16.30 CET,
where you can expect an exciting discussion on practical perspectives of changing demand trends, supply chain shifts, the impact of digitalisation, and sustainability. Taking stock of the current state of the maritime supply chain, and with a look at the lessons learnt from the recent crisis, speakers will explore opportunities to build back better together towards shock-resistant supply chains for now, and the future. 
FIATA secured digital FBL on tour!
On 31 October, FIATA participated online to the UNECE International High-level Conference on Digital Transformation of Information Exchange in Supply Chains Using United Nations Standards that took place in Baku, Azerbaijan.

The discussion focused on the need to enhance the digitalisation of multimodal supply chain data sharing along trade routes between Europe and East Asia, crossing the Caspian Sea and Central Asia. Seamless flow of information, using UNECE UN/CEFACT standards for digital data sharing, already facilitates trade and transport in the European continent and the Conference scope was to bring the benefits of this innovative approach to the SPECA countries.

FIATA gave a presentation on the eFBL solution, explaining how the UN/CEFACT reference data model can be practically used to create interoperable data standards. It was also presented as a practical solution allowing freight-forwarders to easily make a first step towards full digital processes, benefiting from the extra security brought by digitalisation. 
First in-person signing of new FIATA eFBL distribution agreement
FIATA is happy to announce that MAGYAR SZALLITMANYOZOK SZOVETSEGE - Association of Hungarian Forwarders (MSzSz), has joined the list of associations offering secured digital FBLs to its members. This was the first in-person signing of the new FIATA documents distribution agreement, which FIATA marks with a signing photograph below. MSzSz Secretary General Janos Pekar (left), FIATA Director General Stéphane Graber (centre) and President Dr Marton Lanyi (right).

Nine associations have now signed the new FIATA documents distribution agreement. Other associations interested to learn more about the eFBL and the new distribution agreement can visit the designated FIATA website, or contact FIATA at [email protected].
FIATA brings you updates on ICS-2!
As part of FIATA's work on trade facilitation and pre-loading advance cargo information (PLACI) programmes, FIATA has been actively working to support freight forwarders with the implementation of the upcoming EU Import Control System 2 (ICS-2) requirements. 
FIATA attended the IATA PLACI Compliance Requirements Session, with participation of the European Commission DG TAXUD, freight forwarders, airlines and service providers. The session provided an opportunity to examine the implementation considerations for the different supply chain actors and to receive clarifications from DG TAXUD.

Please note that quality data for ICS2 is a must, and will require not only the goods description for each consignment, but also the 6-digit Harmonised System (HS) code.

Please note that EU-ICS2 is not an upgrade of EU-ICS1 but a completely new programme, so there is a real need to prepare and collaborate with all industry parties involved. FIATA is working actively to provide further guidance for freight forwarders, please get in touch with us at [email protected] in case you have any additional questions and visit the official DG-TAXUD page here.
Call for enhanced awareness of cybercrime
FIATA members are urged to continue to improve their cybersecurity, as cyberattacks continue to increase in frequency. In a latest Deutsche Verkehrs Zeitung article, it emerged that cyber attacks are not only increasing in number, but also in their intelligence. One such example was a hacker posing as a company's HQ Manager, giving orders to others. These types of attack are difficult to identify, and the key here is to improve the consciousness of employees. Another popular method is blackmailing through the blackout of IT systems.

So how to avoid such issues? The article author suggests using as many external platforms to save data as possible, which cannot be affected by internal attacks. Emergency technical resources are required, which the company can fall back on in the case of an attack. These solutions are not without great expense, but are necessary in an ever-growing realm of cyber attacks. Challenges such as data format discrepancies with those of customers can cause obstacles on the journey to saving all data in two places.

FIATA Advisory Bodies Safety and Security, Information and Technology and Legal Matters are currently updating the much-needed Cybercrime Best Practice Guide (V2). Stay tuned! 
Final chance to take part in LPI Survey!
The next edition of the World Bank's Logistics Performance Index (LPI) benchmarks logistics performance in around 160 countries. FIATA is the World Bank's most important partner in the LPI survey, and it is thanks to the participation of FIATA's members that the LPI can be published.

The World Bank invites you totake the surveynow! The LPI provides the voice of logistics professionals: It is partly based on a survey among international freight forwarders who share their experience in moving goods and organizing international supply chains for their customers. This is a unique opportunity to "vote" and ultimately influence the environment that you, as professionals, operate in.

Completing the survey should only take 10 minutes. Find more information at lpi.worldbank.org. Questions? Email us at[email protected]
Council adopted EU single window for customs
 To make international trade easier, shorten customs clearance times and reduce the risk of fraud, the EU has decided to create a single window for customs. On 24 October 2022, the Council adopted new rules which set the appropriate conditions for digital collaboration between customs and partner competent authorities.

Once fully implemented, businesses will no longer have to submit documents to several authorities through different portals. The single window environment will allow customs and other authorities to automatically verify that the goods in question comply with EU requirements and that the necessary formalities have been completed.
The regulation will be signed at the European Parliament's November II plenary and then be published in the Official Journal of the European Union.
2022 FIATA World Congress Survey closing
Thank you to all those who participated in the post 2022 FIATA World Congress survey, which has now closed. Insightful comments have been shared that will help improve the 2023 FIATA World Congress edition! Stay tuned for information about the 2023 FWC in the coming weeks!