FIATA HQ Meeting closes after a successful 'RECONNECT'ion!
FIATA e-flash
27 May 2022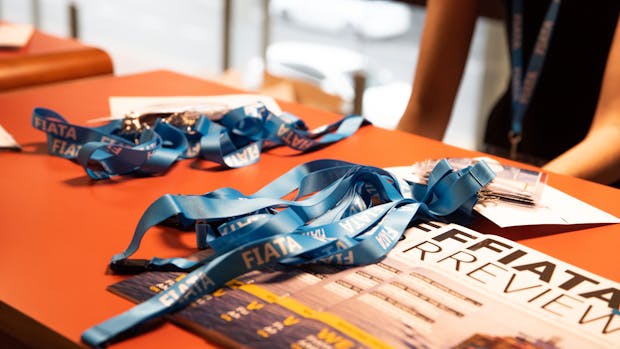 The FIATA HQ Meeting shone not only with our members, but also the global audience!
Last week we enjoyed a very special event indeed, finally able to welcome members to the new home of FIATA HQ - the international organisation capital Geneva! The meeting proved that freight forwarders are here to stay and that FIATA is more relevant than ever to defend an efficient logistics in these turbulent times. If you did not have the opportunity to attend all sessions of the FIATA HQ Meeting last week, you can access a daily summary here:
Day 1 Summary
Day 2 Summary
Day 3 Summary
Paperless FIATA Bill of Lading officially launched!
The FIATA HQ Meeting saw the official launch of the long-awaited paperless FIATA Bill of Lading. FIATA has worked alongside partner Komgo to develop the paperless B/L and with its software provider partners will start to implement the trade document in coming months. FIATA National Association members are encouraged to join the implementation phase and benefit from this secure, optimised trade process document to speed up trade. Read more in the press release launched during the session.
Save time and money - Send electronic documents within seconds and pay up to 3 times* less than with paper processing.
Optimise your processes - Issue paperless FBLs directly from your TMS and avoid double data entry.
Bring trust and security - Give the possibility to your stakeholders to verify at any time: the validity of the eFBL, your identity as well as the document content integrity.
Achieve your sustainability goals - Embrace a green solution, help saving paper and unnecessary courier service.
*According to DCSA study https://dcsa.org/wp-content/uploads/2020/05/20200519-DCSA-taking-on-eBL.pdf
Enter the FIATA Freight-Pay competition now to win some exciting prizes! 
FIATA National Associations are encouraged to enter this recently-launched Freight-Pay competition! The scope is for National Associations to enroll a maximum number of FIATA members on the platform (Highest number of registrations from FIATA members wins):
1st prize: 2x flights + tickets for 2022 FIATA World Congress
2nd prize: 1x free pass for 2023 FIATA HQ Meeting + 4 hotel nights
3rd prize: Finest premium Swiss chocolate assortment
Regular reports of progress will be shared through FIATA communication channels.
The closing deadline for entry to the competition is 31 July 2022.
FIATA members can register here. 
FEDESPEDI celebrates 75 year anniversary in Venice, with FIATA President in attendance
The week started in style in Venice for attendees of the FEDESPEDI 75 celebrations, which also included FIATA President Ivan Petrov. The President shared his appreciation for the invitation to the event, and congratulates FEDESPEDI on 75 years of logistics, serving their customers and uniting the Italian freight forwarders, on his first National Association visit since his Presidency began during the pandemic. The celebration posed an excellent opportunity to renew the Federation's commitment to supporting the Italian entrepreneurial system and mutual challenges all stakeholders need to respond to, with over 200 guests including associative representatives, companies and partners of the Federation.
Alongside President Petrov, numerous other high-level guests joined the celebrations including Simone Venturini, Councillor for Economic Development, Labor and Tourism of the Municipality of Venice, Fulvio Lino Di Blasio, President of the Port System Authority of the Northern Adriatic Sea and Teresa Bellanova, Deputy Minister of Sustainable Infrastructure and Mobility who stated the importance of a system based on sharing and interchange: "Infrastructure sustainability, intermodality, digitalization and simplification are the strategic drivers that guide the investments of the Next Generation EU. Achieving the goal means decisively affirming the need for a shared approach, of 'together', among all stakeholders, institutional and private, with great attention to the new generations and women.'
Post-HQ Meeting Brochure coming soon!
Just in case you didn't get enough of the euphoric week we had in Geneva, and you'd like a keepsake, or you missed it and would like to have documentation of the sessions and participants, we have been putting together a Post-HQ Meeting brochure to summarise the event. Stay tuned for publication next week!
Agenda
Upcoming events:
20-22 June ¦ WCO-PSCG Meeting, Brussels
30 June ¦ FIATA General Meeting