FIATA welcomes two new Associations to digital FBL distributor list ¦ Launch of Legal Newsletter and HQ Meeting App!
FIATA e-flash
13 March 2023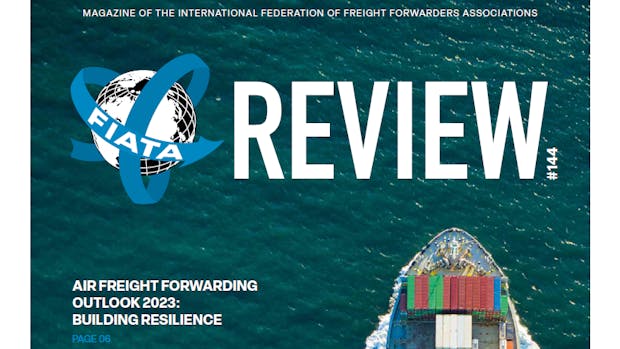 2023 FIATA HQ Meeting app launch tomorrow! 
The 2023 FIATA HQ Meeting starts this Friday! Learn more about what FIATA has in store for its members by checking out the more detailed version of the programme available here. Participants can expect the launch of the FIATA HQ Meeting App tomorrow, where they can locate all necessary materials ahead of and during the event including a networking function, a live event feed, a speakers list, a participants list and more! Please check your spam/junk in case you do not receive and invitation from our Eventee platform!
 
UNCTAD - United Nations Conference on Trade and Development, UNECE - United Nations Economic Commission for Europe, UNCITRAL - United Nations Commission on International Trade Law, UIC - International Union of Railways, IRU - International Road Union, World Shipping Council, Logitech, evofenedex, Çelebi Aviation Holding, IATA -  International Air Transport Association, MSC - Mediterannean Shipping Company, CHAMP, and many more will feature on the panels, some of which will be interactive with engagement from members!
NEW FIATA Review out now! Explore expert global outlook for airfreight and more!
FIATA is excited to reveal the NEW FIATA Review design to all members and readers ahead of the HQ Meeting in this first magazine of 2023! You are receiving this in digital form only, unless you have completed the survey below. If you still have not done so, but wish to continue to receive the magazine per post also, please fill in the survey!

This first issue of 2023 takes a closer look at the airfreight outlook for the year, the 'End of 2M' on the maritime front, what's to come for members from the Advisory Body on Safety and Security in the form of cybersecurity guidance, safety in freight loading, a closer look at AEO programmes, and FIATA Diploma success in 2022! Read the latest news from FIATA Members around the world, hear from FIATA Regions Chairs, anticipate the upcoming FIATA HQ Meeting sessions, with practical guidance, and get a flavour of the upcoming FIATA World Congresses in Brussels and Panama!
Explore the NEW FIATA Review here!
Call for Subject Matter Expert Delegates - Advisory Body on Information Technology
The COVID-19 pandemic has accelerated the need for the industry's digital transformation, and FIATA has taken the lead with the launch of its new Digital Strategy in 2020 and digitalisation of the FIATA Bill of Lading, as the first step towards the smooth exchange of data between all stakeholders of the supply chain.

More than ever, FIATA will need the support of experts in digital transformation to develop and implement the different projects that are part of the organisation's digital strategy. If your Association is interested in working on the digital future of the freight forwarding industry, we invite you to nominate a delegate with the necessary expertise to join ABIT and participate in the elaboration of ABIT deliverables. 
 
We are looking for motivated individuals, who are ready to work in a cooperative spirit, with the following characteristics: 
In-depth knowledge and extensive experience in developing and implementing digital solutions within the freight forwarding and/or logistics industry 
Key interest in technological trends and emerging digital solutions 
Knowledge of the freight forwarding industry 
Readiness to dedicate time to work on FIATA's projects 
For associations interested in nominating a delegate, please fill in the dedicated online application form as soon as possible, but no later than 8 April. 
For any questions, contact [email protected].
FIATA welcomes NSBS and CCIS to list of Associations offering digital FBL!
We are pleased to share that the Bulgarian Association For Freight Forwarding, Transport And Logistics – NSBS and the Chamber Of Commerce And Industry Of Serbia (CCIS) - Association For Transport And Telecommunications, are now offering the digital FBL to their members. The number of associations offering this new service to their members now totals 18, and the full list can be accessed on our website.  
The goal of the FIATA Presidency, set upon the launch of the FIATA secured digital FBL, was to see all FIATA Associations sign the new FIATA documents licensing agreement in time for the 2023 HQ Meeting, and was shared with the FIATA Extended Board. In a final push ahead of the HQ Meeting, we thus invite all associations who have not yet signed, to do so as soon as possible.
If you haven't received the new licensing agreement or need it to be re-sent to you, or for any questions regarding the agreement, please contact [email protected].
FIATA Quarterly Legal Newsletter to be launched this week!
The rapid evolution of global events in the maritime supply chain has seen the emergence of important legal developments for the freight forwarding and logistics industry, as well as a renewed focus on legal aspects as part of risk management strategies. FIATA, as the global organisation for the freight forwarding and logistics industry, is pleased to launch its quarterly legal newsletter as part of its services to its members. This quarterly legal newsletter to be launched ahead of the FIATA HQ Meeting aims to inform FIATA members of important legal developments around the world and provide practi­cal considerations from a legal perspective.
The FIATA Headquarters would like to thank the members of FIATA's Advisory Body Legal Matters (ABLM) who contributed to this first issue, which sheds light on an important decision taken by the US FMC against a large shipping company for unfair practices, highlights risks in­volved in international trade, nuances in general average claims, and provides an update on the work underway in Australia on a simplified trade system. Finally, FIATA's ABLM Chair reminds freight forwarders of the importance of ensuring proper contract management practices, for which practical tips can be found in the ABLM Best Practice Guide on Contract Management.
If you would like to contribute to the next FIATA Quarterly Legal Newsletter, please contact [email protected].
FIATA joins Business at OECD as part of Associated Expert Group
FIATA is pleased to announce that it has been invited to join Business at OECD (BIAC) as part of their Associated Expert Group (AEG). This will allow FIATA to represent the freight forwarding and logistics industry in OECD policy-making.

FIATA will contribute to and harness expertise from  BIAC's policy groups on digital economy, innovation and technology, and Small and Medium Enterprises (SMEs) to further its digital strategy. FIATA has also noted interest in following the work of policy groups on competition, economic policy, education, the trade environment and energy.

FIATA Members participated in BIAC's Maritime Transport Committee in previous decades via their national federations of commerce. Therefore, FIATA notes with pleasure this formal recognition and direct access to Business at OECD to further our shared priorities of connecting businesses and governments more closely to shape policy, which enables the competitiveness and sustainability of businesses. 

For more information, contact us on [email protected].