FIATA HQ welcomes Avalon Risk Management to Geneva office, WG Sea progression and FWC news!
FIATA e-flash
3 September 2022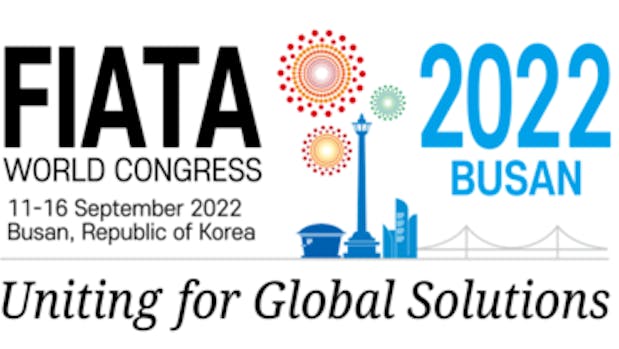 FIATA welcomes Avalon Risk Management to FIATA HQ
This week FIATA HQ welcomed Avalon Risk Management CEO Michael Brown, Executive Chairman James Zuhlke and Executive Vice President Terrie Sapronetti to the Geneva office for discussions on membership benefits through customs bonds. FIATA's US Group Bond Program is entwined in Avalon, and therefore members can benefit from attractive provisions if joining them.

FIATA members are reminded that they can enjoy many benefits when joining Avalon for the FIATA's US Group Bond Program. Avalon is a long-term customs bonds provider to many FIATA members, Look out for upcoming information in the next FIATA Review on how to get involved.
2022 FIATA World Congress - COVID test no longer required for international travelers BEFORE entering Korea!
Entry requirements updates

Please note the latest update from the Korean government that as of Saturday, 3 September, a COVID test is NOT required anymore to travel to Korea, but FIATA still recommends it as a negative PCR test prior to departure will lower the risk of a positive test on arrival. 

Please note that a PCR test is currently required within 24 hours of arrival in the Republic of South Korea. Delegates who travel first through Incheon Airport (Seoul international airport) to reach Gimhae Airport (Busan airport) are advised to book a PCR test in advance at the Busan airport (Gimhae) through the following link: https://direct.seegenemedical.com/main/book/?ctcd=007#agree.
Delegates who take the train from Seoul train station to get to Busan are recommended to book a PCR test at their terminal of arrival at the Incheon airport (Seoul international airport) through the following link: https://safe2gopass.com/index.

A positive test will see the traveller go into quarantine for 7 days, so we also recommend that you have adequate travel insurance to cover COVID-19 aspects since neither KIFFA nor FIATA will cover the costs related to quarantine days or hospitalisation.

Remember that you will need to fill in the respective electronic documentation yourself (K-ETA Application Eligibility Guide < K-ETA Guide < K-ETA) as there is a requirement as to passports and other personal aspects. It is recommended to fill in the K-ETA online maximum 72 hours before departure. Please note there is a little fee which applies ($9-10).

eFBL side session

In-person participants are invited to attend one of the 3 eFBL demo sessions organised during the FIATA World Congress. The sessions (30 mins) will include a live demo of how to issue eFBLs through our partners' TMS Cargowise. Make sure to save your seat now as the sessions will be limited to 20 participants (registration on a first come first served basis)! All participants will enter an exclusive competition, having a chance to win a FIATA Kit (FIATA cap, FIATA pin, FIATA flag and FIATA 'The Law of Freight Forwarding' book)! Register here!

If you experience any issues with registration or your accommodation selection, please contact the 2022 FWC host team at: [email protected]. 
Register to the 2022 FWC here!
FIATA World Congress Programme
Highlights of Information Session for WG Sea Delegates
FIATA organised an information session for Working Group Sea Delegates on 1 September 2022 with experts Olaf Merk (OECD-ITF) and Antonella Teodoro (MDS Transmodal). The session was moderated by Chair Jens Roemer, who had collaborated and contributed to the work of the authors in the past. The topic of discussion was their latest publication, on ''Performance of Maritime Logistics'' which has been making waves.
Key messages that emerged from the discussion were:
Global coordination between regulators is necessary to keep the world connected. Topics regulators ought to focus on include: monitoring competition in container shipping and door-to-door transport, transparency of container shipping rates and charges, and performance information (as is being done by the US-FMC).
Globally integrated networks have undermined resilience and buffers that could have stopped spill-over effects, and public policies have facilitated this via allowing consortia and alliances. Therefore, it is important to acknowledge that actions by one regulator have consequences for other jurisdictions. This was evidenced by the fact that increased capacity on the Transpacific route came at the cost of loss of connectivity and capacity in Africa, Europe and Latin America.
FIATA delegates drew attention to the diverging views of regulators, especially their unwillingness to explore the effects of vertical integration. It was pointed out that FIATA needs to work to secure global agreement by regulators on underlying facts. To address this, OECD-ITF is exploring the possibility of bringing regulators together on the issue along with relevant private sector stakeholders by the end of the year. The FIATA Director General expressed his commitment to ensuring momentum needed to mobilise regulators to coordinate their approach to regulating this global issue.
It was agreed that there was a need to establish a set of key performance indicators (KPIs) for all actors in the maritime supply chain. The authors have derived inspiration from the practices of port community systems and terminal operators like PSA, who use such parameters for assessment. In this regard, the WG Sea Chair noted that there was no platform for dialogue with shipping lines. Some WG Sea delegates are making efforts to reach out to individual shipping lines for dialogue.
Looking at the last 2.5 years of increasing turbulence, the experts noted that they are a very good indicator of how resilient the supply chain is to crises. We can expect more uncertainty in the future, from pandemics, conflict, climate change etc. and the regulatory framework and industry have to be sufficiently prepared to weather them. FIATA notes that regulators should pay close attention to the valuable information and patterns in this period to inform their future work.
FIATA would like to thank the industry experts, Olaf Merk and Antonella Teodoro for their time and valuable input and our WG Sea Delegates for their commitment.
FIATA visit to CIT in Bern, Switzerland
On 25 August 2022, FIATA visited the International Rail Transport Committee (CIT) at its offices in Bern, as part of the longstanding collaboration between the two organisations. CIT is an association bringing together railway undertakings and shipping companies, with the objective of implementing COTIF and European transport law and standardising the contractual relationship between carriers and between carriers and their customers for passenger and freight traffic. Legal interoperability between the various regions for rail freight were key topics, as well as the transport documentation possibilities. The discussion proved timely in the context of FIATA's ongoing work to promote the FIATA Multimodal Transport Bill of Lading and its paperless equivalent, as well as FIATA's ongoing work at the international level to build and strengthen the underlying legal framework. The two organisations discussed the possibility to collaborate further to support their members in the shifts in the global logistics chain, including multimodal opportunities in the middle corridor.
 
Further discussions on these topics will take place at the FIATA Working Group Road and Rail meeting on 30 September 2022, to be held in Sofia, Bulgaria in conjunction with the 14th SEEFF conference "Digitalisation, Multimodality, Sustainability". The meeting is open to all interested FIATA members, who are invited to register as soon as possible.
Upcoming events: