Freight-Pay online transaction platform launched for FIATA members
Press Release
1 July 2021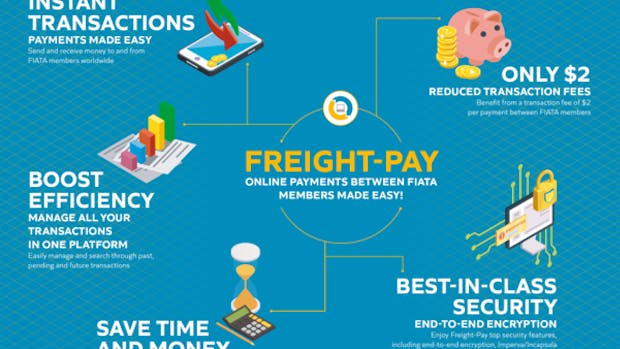 Geneva, 1 July 2021 – FIATA International Federation of Freight Forwarders Associations, in collaboration with PayCargo, a leading financial technology company, has launched Freight-Pay – a custom platform developed for FIATA members to facilitate online transactions between themselves.
Freight-Pay was developed by PayCargo with the expertise of FIATA to provide an online contactless solution for FIATA members that enables them to instantly make and receive international payments. The platform allows FIATA members to send and receive money to and from other members worldwide who have also joined the platform, and easily search through transactions. Members will benefit from reduced transaction fees, flexibility of payment, and best-in-class security features. They can register to the platform and save time and money, while benefiting from Freight-Pay's user-friendly features and end-to-end encryption.
"Freight-Pay is meant to simplify the freight forwarder's day-to-day business and we are excited to introduce this new tool to our members," said Dr Stephane Graber, FIATA Director General. "As we dive deeper into the digital world, we must continue to equip our members with hands-on resources that make their daily practice easier. That is why we collaborated with PayCargo to develop the Freight-Pay solution, so that FIATA members can have an efficient and secure platform to transfer money among themselves at a reduced cost."
"A system such as Freight-Pay will help to enable businesses, irrespective of their location, to become truly global in their operations. International partnerships will become simplified, more readily available and the cost of doing business significantly reduced," said Lionel van der Walt, Global Chief Commercial Officer at PayCargo. "Existing methods of international payments are slow, expensive, and often unavailable to many businesses; Freight-Pay has been specifically designed to address and resolve these challenges for the FIATA freight forwarding community."
To start using Freight-Pay, visit www.freight-pay.com. For more information on the platform, including a user guide with video tutorials and FAQ, visit www.fiata.com/freight-pay.html.
About FIATA
FIATA International Federation of Freight Forwarders Associations is a nongovernmental, membership-based organization representing freight forwarders in some 150 countries. FIATA's membership is composed of 109 Associations Members and more than 5,500 Individual Members, overall representing an industry of 40,000 freight forwarding and logistics firms worldwide. Based in Geneva, FIATA is 'the global voice of freight logistics' www.fiata.com.
Media Contact
Claudia Marquina | Communications Officer
+41 22 715 4553 | [email protected]