Have your say on the digital future of logistics, and decarbonisation at the FIATA HQ Meeting!
FIATA e-flash
11 February 2023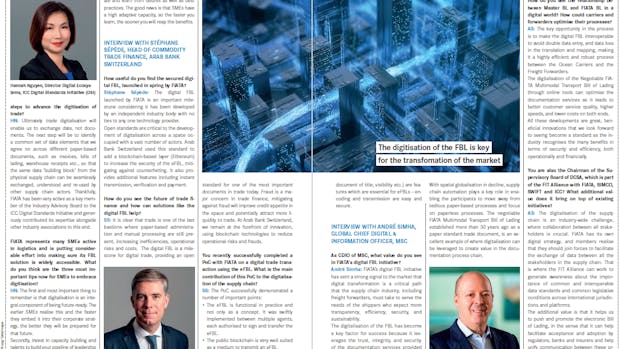 Join the HQ meeting to have your say on how FIATA can streamline data exchange through digital FBL!
Join the HQ meeting to have a say on how FIATA could help streamline the exchange of data with key stakeholders through the digital FBL!
A workshop will be dedicated to the (digital) FBL, and its current and potential usage with different modes of transport. The scope of the session is to explore the different opportunities FIATA could have through the digital FBL solution to facilitate the exchange of data between freight-forwarders and carriers from different modes of transport, as well as key stakeholders such as custom authorities. The key objective being to move from (digital) documents to data and to avoid double data entries.  
Participants will be split into four groups, with each focusing on a mode of transport, and which will be moderated by guest speakers from key organisations and companies:  
Sea: Lutercia Porto, Digital Projects Director, MSC 
Air: Stephane Noll, Head of Digital Engagement and Transformation, CHAMP 
Road: Kostantinos Alexopoulos, Chief Transport Facilitation and Economics, UNECE 
Rail: Philip Van der Bosch, Deputy Freight Director, UIC 
Get ahead at the FIATA HQ Meeting: Sustainability basics - Know your fuels!
FIATA has been following the issue of new fuel options for the transition to sustainable transport closely. OECD-ITF's recent report assesses the potential of e-fuels to address this gap. Suggested alternatives to fossil fuels are biofuels and e-fuels. E-fuels are synthetic fuels produced from electricity, preferably from a renewable source. ITF's study aims to understand the carbon intensity and greenhouse gas emissions throughout the life-cycle of such fuels from their production, transport and storage to usage.  
The upcoming transition is considerable because, as of 2021, almost 100% of the fuel used in aviation and shipping were fossil fuels. Policymakers have been urging regulators to act quickly to incentivise change by eliminating the price difference between conventional and alternative fuels. This will have a trickle-down effect on supply chain intermediaries and shippers.
 
Find out more, and be a part of this discussion at the FIATA Headquarters Meeting on Saturday, 18 March at 16:00-17:30 CET in Geneva. 
Convinced? Register now to the highly promising 2023 HQ Meeting!
Weren't decided, but now feel convinced? Book your space at this year's FIATA HQ Meeting! From Saturday 18 March to Tuesday 21 March, FIATA members are cordially invited to attend the 2023 FIATA HQ Meeting, with the excitement to begin on Friday 17 March at this year's 'Icebergues' Welcome Reception venue.

This year's format has been restructured, with more opportunities for involvement for FIATA members and delegates in the form of workshops and interactive sessions organised by the FIATA Institutes and Advisory Bodies. It promises to be the best HQ Meeting you have attended!

Highly relevant, and interesting panel sessions on topics critical to the industry today including "Sustainability at what cost?", "The future of multimodal logistics digitalisation", "From cybersecurity to aircraft damage control for ULDs" to name but a few, will feature. Stay tuned in the coming weeks for session-specific news!
For this event dedicated to FIATA Association members and delegates, more information, including registration, visas, and practical tips, is available on the event's page: 2023 FIATA HQ Meeting.

Registration to the FIATA HQ Meeting is open until Sunday 5 March 2023 inclusive. 
Register here to the Geneva FIATA HQ Meeting
See break-down of upcoming HQ Meeting topics
Association Members' last chance to support YLP: Nomination deadline closes 15 February!
Weren't able to put forward a candidate in time for the 2023 Young Logistics Professionals (YLP) Award? Good news! The deadline to present your national prodigy has been extended to 15 February 2023! This award is a unique experience for young professionals, allowing them to gain more experience in the industry and connections throughout the competition, as well as great prizes.  
Young professionals are the future of the industry, and FIATA Association Members can themselves benefit from encouraging their YLPs to participate in this prestigious international contest, where they can improve their skillset, develop their network and gain excellent experience on a global platform. FIATA has made it its mission to represent the industry in the most inclusive and dynamic way possible. 
Don't let the opportunity pass by, and send your candidate's application to [email protected] by 15 February 2023. Please note that each FIATA association member is entitled to present one candidate. 
For more information on the competition, requirements and award, click here! 
Para más información sobre el concurso, los requisitos y el premio, pulse aquí! 
关于比赛、要求和奖项的更多信息,请点击这里 
For additional questions or information, reach out to [email protected]  
Upcoming FIATA-UIC webinar on corridor development in the Latin-America region – reserve your space!
FIATA and the International Union of Railways (UIC) have joined forces in exploring the state of play on the current development of transport and logistics corridors in Latin-America, and are organising a webinar with high-level speakers from the region to take place 14 February 10.00-12.15 Mexico time (17.00 CET).

Logistics and transport corridors are drivers for economic and social development, and the two organisations want to support stakeholders in developing these corridors.  who will share their point of view on the topic as well as opportunities and challenges.  
The webinar will be held in Spanish with the interpretation available in English and Portuguese.  
Take part in the Dangerous Substances Transport Survey!
The transportation of dangerous substances can pose a significant threat to public health and safety, as well as to the environment. As a member of the international freight forwarding community, your role in preventing trafficking of these substances is vital, and FIATA is committed to supporting its members in this important effort.
 
To better understand the challenges and needs of its members, FIATA is conducting a survey on the prevention of dangerous substance trafficking in the freight forwarding industry. Your participation in this survey is critical in helping us identify areas where we can support our members and improve the overall safety and security of the supply chain.
Take 3 minutes to respond to the survey and help us work together to create a safer and more secure supply chain for all!
Take the Dangerous Substances survey!
Agenda
Upcoming events:
14 February | LATAM corridor seminar in partnership with UIC
18-21 March | FIATA HQ Meeting
22 March | 1st Extended Board Meeting 2023