Important dates for your calendars! Regional Field Meetings, 2024 HQ Meeting and more!
FIATA e-flash
13 May 2023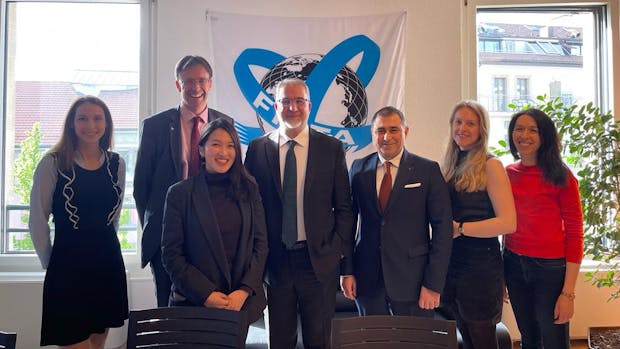 FIATA RAME & RAP Field Meeting Registrations now open!
Earlier this week, FIATA launched the registrations for its 2023 Regional Field Meetings:
Region Asia-Pacific (RAP) from 13-15 July in Da Nang, Vietnam,
Region Africa and Middle East (RAME) from 1-3 August in Kampala, Uganda.
FIATA Members and non-members are encouraged to participate in these regional gatherings which will bring together industry professionals, academics, and government representatives to discuss the logistics and transportation industry in Asia-Pacific and Africa and the Middle East, where the latest trends and best practices in the freight forwarding sector in 2023 will be addressed. 
2023 FIATA RAP Field Meeting and AFFA Registrations
2023 UNESCAP Regional Conference for Logistics Service Providers Registration
2023 RAME Field Meeting Registration
Why join the 2023 RAME Field Meeting?
FIATA calls for bids to host 2024 FIATA RAME and RAP Field Meetings!
The FIATA HQ has announced that it is now accepting applications to host the 2024 FIATA Regional Field Meetings:

- RAME (Region Africa and Middle East)
- RAP (Region Asia-Pacific)

Don't miss out on the opportunity to participate in these exciting events and showcase your region to the world!

Those interested in applying to host the meetings must submit their applications to [email protected] no later than two weeks before the 2023 FIATA RAME and RAP Field Meetings:

RAP Field Meeting bid deadline: 29 June
RAME Field Meeting bid deadline: 17 July
 
The selection process will consider Venue Selection Criteria, which includes:
Easiness to Reach the vneue,
Visa Requirements,
Safety and Security,
Business Opportunities,
Venue Incentives, and
Hosting History.  
Candidates will make a detailed presentation of their applications during the 2023 FIATA RAME and RAP Field Meetings, respectively scheduled for 1-3 August and 13-15 July 2023. Details about both events and registration processes are available here. 
FIATA RAME and RAP Members will then approve the top two candidates, with the final votes taking place at the 2023 FIATA World Congress in Brussels, Belgium, at the RAP and RAME Meetings on 3 October. 
 
Kindly note that the selection of the short-listed candidate will be limited to those coming from the sub-regions which did not host the 2023 Field Meetings.
2024 FIATA HQ Meeting dates officially announced!
FIATA Members are kindly informed that the 2024 FIATA HQ Meeting will take place from 5-8 February 2024, with the Extended Board Meeting to be hosted on 9 February. The event, which is to be hosted earlier than usual, will be an excellent opportunity to kick-start the year and the subsequent work of the FIATA HQ in addressing all topics at the meeting. 

Due to the success and warm welcome of the new format of the event, with more interactive member sessions and workshops, FIATA is planning to expand this format to all sessions, and with that, looks forward to reinforcing FIATA Members' voices into its work as a result.

Stay tuned for more information, and the launch of registrations!
FIATA presents FBL and its digital solution at 40th UN/CEFACT Forum
FIATA was pleased to present its work to standardise and secure the Negotiable FIATA Multimodal Transport Bill of Lading (FBL) and its Digital FBL solution at the 40th UN/CEFACT Forum, which took place at the Palais des Nations in Geneva on 11 May.

The Transport and Logistics Domain meeting included updates on new projects initiated by the UN/CEFACT, such as the Digital Identity for Trade Facilitation project, which FIATA is taking part in, as well as some interesting suggestions for enhancements of the UN/CEFACT standards, such as the addition of a Trade Finance reference data model.

FIATA's FIT (Future International Trade) Alliance partner, DCSA, in agreement with FIATA, additionally highlighted the importance of collaboration between the different actors of the industry to digitalise the end-to-end supply chain.

Join next week's FIATA Digital Lab on 16 May, 3-4pm CET, to learn more about Raft, an intelligent freight automation platform, that empowers freight forwarders to deliver more value to customers by automating the entire freight journey, and ICC Genesis, a digital certifying tool that enables exporters to go to their related Chambers of Commerce to obtain the certification of their preferential origin statement on invoice declarations.    

For more information and digital insights from the FIATA Digital team, stay tuned to the newly launched FIATA Digital Lab LinkedIn group!
Join the FIATA Digital Lab LinkedIn Group here
Read more about the FIATA digital FBL
FIATA Members called to participate in AEO Certification interview!
FIATA, in collaboration with IATA, is conducting an interview amongst members about the Authorized Economic Operator (AEO) certification to assess its effectiveness and associated benefits, as well as the process of acquiring the certification. 

In this regard, FIATA invites its members to share their experiences of becoming AEO-certified, and what would encourage them to become AEO certified. Both AEO certified and non-AEO certified members are invited to participate.  
Your participation will help FIATA to continue its advocacy and lobbying efforts for accessible AEO certification for companies of all sizes, including SMEs, with tangible benefits. 
FIATA is seeking responses from Latin America, North America, Region Asia-Pacific, and Region Africa and Middle East! 
Please fill in the below form. FIATA thanks you for your cooperation and will be in touch with you shortly. 
Participate in the AEO certification interview!
66th WCO Data Model Projects Team meeting hears of FIATA's digital FBL
FIATA was honored to participate in the 66th Meeting of the World Customs Organization (WCO) Data Model Projects Team (DMPT) which took place on 11 May 2023. An important topic of the meeting was the work done by the ICC Digital Standard initiative (DSI), in which FIATA has been actively involved, and FIATA's presentation of its digital FBL.

Hannah Nguyen, Director Digital Ecosystems at the ICC DSI, presented the ICC Standards Toolkit for Cross-border Paperless Trade, the Key Trade Documents and Data Elements and the Trust in Trade recommendation documents, whicht FIATA contributed to.

FIATA was then invited to present its work on the digitalisation of the FIATA Bill of Lading, as well as the joint work initiated jointly by FIATA and the WCO on the mapping of the FBL data standard and the WCO data model. The mapping exercise is intended to facilitate the sharing process of relevant FBL data with custom authorities. More information will be shared once the mapping is finalised.
UND visits FIATA HQ post WCS in Istanbul

This week, FIATA welcomed Association Member UND (International Transporter's Association) to its Geneva Headquarters, in return for the welcome FIATA received three weeks after the two met in Istanbul on the occasion of the IATA World Cargo Symposium.

The two parties took the great occasion to further discuss Working Group Road matters, but also collaboration on Young Logistics Professionals, training and communications.