Inspiring the next generation of freight forwarders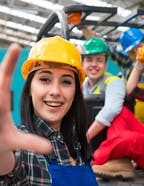 A journey into logistics has no barriers and provides a multitude of career paths. This is especially true when freight forwarders are shaped from an early age. It is therefore essential for the industry to nurture and encourage young talents to join the profession to meet the need for human resources in the coming years. One of FIATA's flagship initiatives to achieve this crucial goal is the Young International Freight Forwarder of the Year Award (YIFFYA).
YIFFYA – a vehicle to engage youth in freight forwarding
Since 1998, FIATA in partnership with TT Club, have been encouraging youth to take part in the YIFFYA. The award provides young professionals looking to develop their knowledge with networking opportunities. Candidates are nominated from FIATA Association Members and all submit dissertations on relevant industry topics, which are evaluated by a panel of experts.
The expert panel then selects four regional winners who are invited to attend the annual FIATA World Congress. The global winner is usually announced during the congress and receives, as part of the prize, one week's practical experience of multimodal transport infrastructure and one-week academic training in the TT Club's Head Office in London.  
Year after year, the YIFFYA has proven to be a rewarding and enriching experience for those involved in the competition, be it the award's steering committee, the judging panel, the contestants, or its sponsors – and in turn, for the freight forwarding community as a whole.
The 2021 competition
Today, in the context of the disruptive effects of the ongoing COVID-19 crisis, the award is even more relevant – as it is resolutely turned towards the future. This is why FIATA and TT Club are pleased to have received as many as 17 dissertations from talented young freight forwarding professionals, who have decided to invest time and efforts in the 2021 competition. The quality of the dissertations and relevance of the topics addressed, covering areas such as bales of fabric, medical supplies, out of gauge plant, and laboratory equipment, truly demonstrate the resilience of our industry.