Navigating uncertainty, and 'storms', secured digital FBL progress and upcoming digital webinar
FIATA e-flash
2 December 2022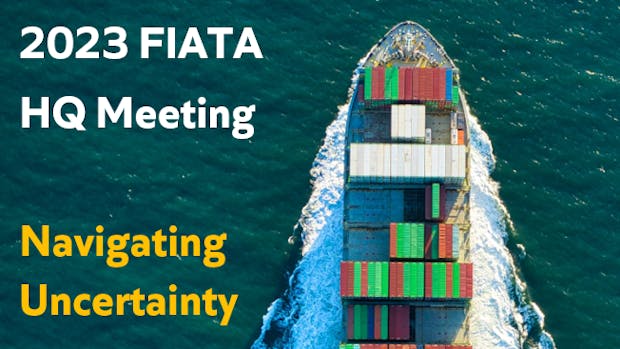 2023FIATA HQ Meeting - 'Navigating Uncertainty' - Registrations NOW OPEN!
Registrations to the 2023 FIATA HQ Meeting opened last week! The link to register to the event is available here.
You may still have a few questions before finalising your registration and if so, we invite you to review the dedicated web page on the FIATA website, in the FIATA HQ Meeting section. Information including accommodation suggestions, the theme of the event, refund and VISA letters are available. Should you have any additional questions or require assistance, do not hesitate to reach out to the FIATA events team at [email protected].  
The event will commence at 09:00 CET, Saturday 18 March 2023, and finish at 17:30 CET, Tuesday 21 March 2023,

It is noted that the Extended Board (EB) meeting will take place on the morning of Wednesday 22 March 2023 (for EB members only), and that some closed meetings will take place on Friday 17 March (FCC, YLP Steering Committee, IFCC and FFVT) for its delegates only.
Preliminary 2023 HQ Meeting Programme
Third Digital Lab webinar: Cargo iQ and IATA One Record - Sign-up now!
The third Digital Lab webinar will take place on December 13, 10.00-11.00 am CET and will feature two platforms, providing useful services related to air freight: Cargo IQ, providing a system of shipment planning and performance monitoring for air cargo and IATA One Record, a standard for data sharing that creates a single record view of the shipment. 
Register now to attend the webinar.  
FIATA Digital FBL solution now available through 21 platforms
FIATA is happy to share that the number of platforms to have implemented the digital FBL is increasing at pace: there are now 21 platforms (TMS, eBL providers and other software), through which you can issue digital FBLs. If your TMS still hasn't implemented the solution, please reach out to [email protected] and we will be happy to help them implement it, the same applies if you have developed your own system.  
Nine associations have now signed the new FIATA documents distribution agreement. We encourage other associations to sign the agreement to be able to offer the digital FBL to your members.  
Find out more about the digital FBL. 
Contact FIATA at [email protected] for any questions.
FIATA Review: Digest now available in two other languages!
For the first time, FIATA is pleased to be able to launch a 'FIATA Review Digest', in Spanish, Traditional, and Simplified Chinese. This is in order to reach a broader audience, and to allow those who have previously been limited by languages, to get more involved with the world of FIATA. 

As well as this, FIATA has recently also published the Chinese translations to the ABLM Best Practice Guide on Abandoned Goods, and endeavours to translate the most important of its documents and communications into these languages.

Have you caught up with the logistics scene for this quarter? Not yet heard about the digitalisation updates in the freight forwarding community, or are interested to hear expert opinion on the current status of the maritime sector? 

If you have acquaintances who would be interested to hear more from FIATA, but have not had the opportunity due to language barriers, please share these translations with them! Spread the word, and support the freight forwarding community at large!
English FIATA Review (Original)
Traditional Chinese Translation Here
Simplified Chinese Translation Here
Navigating Uncertainty: FIATA and the international trade community's outlook for 2023
Last week, FIATA announced its HQ Meeting to take place between 18-21 March 2023 with the theme 'Navigating Uncertainty.' Earlier this week, UNCTAD's flagship publication on the maritime industry, the 2022 Review of Maritime Transport, was published with the title 'Navigating Stormy Waters', and shared FIATA and the industry's sentiments. 
The report is making waves for keen observations that higher grain prices and dry bulk freight rates in early 2022 will ultimately contribute to a 1.2 per cent increase in consumer food prices. Addressing service levels, container ships spent 13.7% longer in port in 2021 compared to 2020, exacerbating delays and shortages. On sustainability, UNCTAD estimated that total greenhouse-gas emissions from the world fleet increased by 4.7 per cent. 
FIATA's longstanding call for a level playing field was reiterated, with UNCTAD noting that countries should protect competition and level the playing field in its key messages. The top 20 carriers almost doubled their market share from 48% to 91% in the last 25 years as per the report. Today, the number of companies that provide services to importers and exporters has fallen in 110 countries with most small countries suffering from a duopoly or monopoly of one calling carrier. UNCTAD recommends that consolidation in the shipping market reduces competition and constrains supply. It can lead to market power abuse, higher shipping costs for businesses and thus higher prices for consumers.

UNCTAD calls on competition and port authorities to work together to monitor freight rates and charges and respond to industry consolidation with measures to protect competition. This report is a much-awaited wake-up call to global regulators and is accessible here.
 
Alongside UNCTAD, the WTO published its Goods Trade Barometer which follows the trends discussed earlier at the FIATA High-Level Maritime Dialogue where shippers noted difficulties in assessing their capacity needs in the coming months. The barometer shows volumes shrinking and demand weakening with both container shipping and air freight falling below baseline levels. FIATA notes that now is the time to recognise our interdependence as supply chain stakeholders and collaborate to navigate uncertainty successfully. 
Agenda
 Upcoming events:
22 March | 1stExtended Board Meeting 2023