New spin on post-HQ Meeting Extended Board Meeting! ¦ FIATA in Singapore at ICC Future for Trade Forum
FIATA e-flash
31 March 2023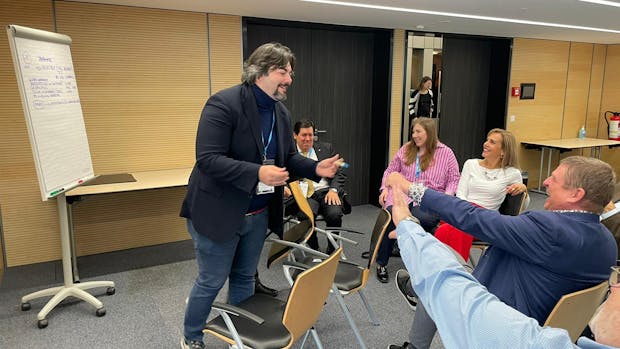 2023 FIATA HQ Meeting summaries available! 
The 2023 FIATA HQ Meeting provided a platform for learning, growing, networking and information exchange on a new level for FIATA's global membership! This year's event took a workshop format for many panels, allowing members to come together in focused interactive groups to brainstorm on key topics for their freight forwarding associations and businesses, with great success.

Over 190 participants joined from almost 60 countries worldwide to hear about new best practices, expert advice and opinions from multimodal transport perspectives on decarbonisation, cybersecurity, latest legal updates, digitalisation, customs and trade faciliation, as well as ways in which FIATA can continue to collaborate with expert international organisations, to ensure freight forwarders are always kept up to date on the latest from the industry!
FIATA HQ Meeting Backdrop Photos ¦ PW: 202303FIATA
FIATA Extended Board meets to map future and identify key challenges and opportunities for FIATA Members
On 22 March, after the FIATA HQ Meeting, FIATA's Extended Board Members gathered for the 1st Extended Board Meeting of 2023, preceeded by an interactive workshop in which Board members were asked to identify the main challenges for FIATA members in the future, FIATA's expected role in helping its members, and more! Key points for challenges included: innovation, digitalisation and becoming more sustainable, with main points for FIATA's expected role being: advocacy, capacity building, communications with public and private sector, best practices development and redefining the role of freight forwarders in the global supply chain.

Stay tuned for action points on the topics raised at this year's FIATA HQ and Extended Board Meetings!
FIATA in Singapore: Taking digitalisation topics for forwarders to ICC Future for Trade event 
This week FIATA's Director General Stéphane Graber took part in a panel titled 'Digitalisation on the front lines: Making impact in the SME sector'. The FIATA DG shared from the freight forwarder perspective, and was joined in discussion by Parnkae Nandavisai of the Thai Bankers' Association, Randall Brugeaud of the Australian Government's Simplified Trade System Implementation Taskforce, and Yee Leng Thaw of SGTraDex.

Key outcomes of the panel were the emphasis that digitalisation is a tool to support trade facilitation, and not an end in itself. The objective is to help freight forwarders to optimise their activities to move containers across borders, and it is key to first define the business case and problem that needs to be solved.

Speakers agreed that due to the complexity of the digitalisation of trade, global collaboration is a must. They highlighted that there is no need to recreate what already exists, but rather to work in complementarity. This is the philosophy of the ICC Digital Standard Initiative to which FIATA contributes, which aims to accelerate the development of a globally digitised and interoperable trade environment, as an enabler of dynamic, sustainable, inclusive growth.
FIATA joins influential global organisations as contributor to ICC Academy course
As part of the effort to move from analogue to digital trade, the ICC's Digital Standard Initiative (DSI), of which FIATA is an Advisory Board member, in collaboration with the ICC Academy, has designed a unique course aimed at providing in-depth understanding of what is required to digitise trade and supply chain processes.

With 20 industry experts, FIATA is proud to have contributed as an author to this initiative which has already hosted 200 participants from 50 countries over the past six months. This collaboration among key digital leaders of the supply chain is essential for the future of trade digitalisation. As shared in numerous discussions at the ICC Future Trade Forum in Singapore this week, at which FIATA spoke on digitalisation in the freight forwarding sector, it is key to bring digitalisation to the sector, and to show forwarders how the tools and standards can work together in a coherent digital trade environment, to which the FIATA eBL is an essential component.

For more on FIATA's digital FBL, visit the dedicated webpage.
Renew your FIATA Documents Distribution Agreement with the digital FBL solution! 
 FIATA is very pleased to announce, that after the launch of the digital FBL at the 2022 HQ meeting, 25 of the 28 signing FIATA Associations have now validated distribution agreements to offer the digital FBL solution. 
As noted at the special 'Lunch and Learn' event at the 2023 FIATA Headquarters Meeting, FIATA encourages all Association members to check their records and reach out to FIATA if their license to distribute FIATA documents has expired. FIATA aims to follow the Presidency's intent to bring all distribution agreements up to date within the year. In territories where there are no Associations, Individual members are requested to directly contact FIATA to issue the digital FBL and other hardcopy FIATA documents. 
FIATA welcomes the proactive approach of Indonesia, Malaysia, Vietnam and Zimbabwe, who signed their distribution agreements at the FIATA Headquarters meeting. The full list of all FIATA Members supporting the digital FBL solution can be found here: FIATA Associations offering digital FBLs.

For more information, please contact [email protected] and [email protected]. 
Long-awaited WTO-TFA guidance out now!
 The long-awaited guidance of the Advisory Body in International Affairs (ABIA) is finally available! Check out FIATA's latest publication titled 'Empowering Trade Facilitation: Guidance on the Implementation of the WTO-TFA'!  
This publication is an easy-to-use tool for freight forwarders and their Associations to familiarise themselves with the WTO-TFA, which sheds light on how to make the most of this agreement. You will also find FIATA's qualitative survey results on its members' engagement with their respective National Trade Facilitation Committees (NTFC).

The paper includes insightful testimonies from public sector representatives, including the World Trade Organization (WTO), the International Trade Center (ITC), the United Conference for Trade and Development (UNCTAD), and the Center for International Private Enterprise (CIPE). For a better overview of the sector's engagement, the paper includes contribution from FIATA members (ALOG, FMFF, SIFFA and UTIKAD) regarding their participation in the NTFCs, its functioning and advantages. 
Do not hesitate to get in touch with us at [email protected] should you have any comments or questions about the publication.  
Agenda
Upcoming events: