Next FIATA Meetings and Events to look out for
FIATA e-flash
3 June 2022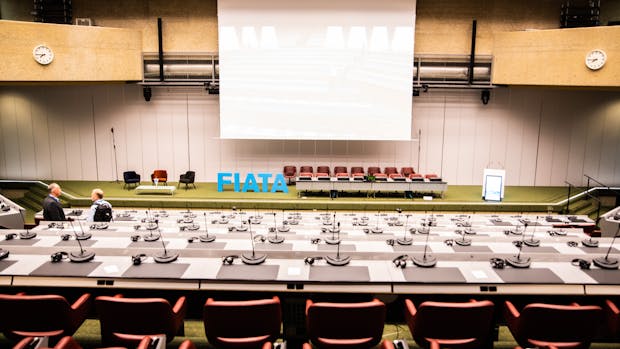 Don't miss your opportunity to register for the 2022 General Meeting!
The 2022 FIATA General Meeting, open to FIATA Association members, is quickly approaching and will take place on Thursday, 30 June from 14.00 to 15.30 CEST.
If your Association member has not yet registered for the event, you still have the opportunity to register, by following this link.

Please note that Association members have until Friday 10 June to register for the General Meeting.
The FIATA World Congress is just around the corner! Sign-up now!
Don't forget to Register for the 2022 FIATA World Congress, which will take place from Wednesday 14 September to Friday 16 September, with pre-meetings, for FIATA members only, from Monday 12 September to Tuesday 13 September.

The Congress will this time take place in Busan, Republic of South Korea, in this exciting opportunity for the whole international logistics community to come together for the first time since 2019's Cape Town Congress. Due to the pandemic, the Congress could not take place in-person in recent years, so we are excited to have members and non-members to come and join us in the beautiful port city of Busan to once again get together, share regional updates and hear from industry experts and international organisations to exchange on best practices.

Prior to the event, there will be scheduled working sessions for various institute and advisory body members, running from 12-13 September, a YLP session on 14 September, and the opening session to take place on Thursday 15 September.

It is recommended that FIATA members start reviewing travel arrangement information now, such as Visa requests or K-ETA requirements, to ensure a smooth arrival in South Korea. Please check out entry requirements on the official Congress website.
FIATA brings together high-level panellists to tackle maritime crisis with solutions
In case you missed it, FIATA recently shared a press release on the maritime crisis solutions panel at the closing of the FIATA HQ Meeting. FIATA thanks all contributors and participants for a very engaging and productive series of webinar sessions, and encourages registered participants to take part in the feedback survey and access the recordings of the sessions in the email sent on 2 June.
Enter the FIATA Freight-Pay competition for National Association members now to win some exciting prizes! 
FIATA National Associations are encouraged to enter this recently-launched Freight-Pay competition! The scope is for National Associations to enroll a maximum number of FIATA members on the platform (Highest number of registrations from FIATA members wins):
1st prize: 2x flights + tickets for 2022 FIATA World Congress
2nd prize: 1x free pass for 2023 FIATA HQ Meeting + 4 hotel nights
3rd prize: Finest premium Swiss chocolate assortment
Regular reports of progress will be shared through FIATA communication channels.

Enter the Freight-Pay competition here.
Stakeholder dialogue on the EU toolbox against counterfeit products
On 31st May, the European Commission and its intellectual property office (EUIPO) presented on their upcoming (Q2, 2022) release of the EU Toolbox against counterfeiting. FIATA was part of the workshop aiming at engaging all relevant stakeholders involved in prevention, detection, control, investigation and prosecution of counterfeit products.

The discussion was informed by relevant inputs on the EU's antitrust policy and GDPR. As intermediaries, they sought for the logistics industry to cooperate in information sharing to facilitate the detection and tracking of infringing products.
The organisers encouraged intermediaries to inform themselves of the modus operandi of IP infringers and to be in a position to distinguish authentic and infringing goods, with designated contact points to address information requests. The importance of Information-sharing in a compatible and extractable format was reiterated, however, the lack of incentive to share such information remains an impediment. Regulators also noted the requests from the transport industry that information on consignments detained with reasons shall be shared.
 
FIATA's position remains clear that it cannot be the freight forwarder's legal responsibility to verify the authenticity of goods and cannot be liable to maintain an IP right holders' commercial position. FIATA however looks forward to the EU Toolbox against counterfeiting as it will integrate fundamental and useful elements to be integrated into the daily work of supply chain actors.
50th Validation/Re-Validation Session: The first of many successful sessions in 2022!
As the FIATA HQ meeting was in full swing, 9 training programmes were successfully validated, concluding the 50th validation/re-validation session. FIATA would like to pay tribute and congratulate the below Association members for the positive outcome of their validation/re-validation and their commitment in equipping the workforce with relevant and up-to-date tools.
 
Validation/re-validation of training programme leading to FIATA Diploma in Freight Forwarding
Ethiopian Freight Forwarders and Shipping Agents Association (EFFSAA) – Ethiopia
Freight Forwarders Association of Romania (USER) – Romania
International Transport Companies Association of Iran (ITCA) –Iran
South African Association of Freight Forwarders (SAAFF) – South Africa
Vietnam Logistics Business Association (VLA) – Vietnam
Validation/re-validation of training programme leading to FIATA Higher Diploma in Supply Chain Management
Egyptian International Freight Forwarding Association (EIFFA) – Egypt
Singapore Logistics Association (SLA) – Singapore
South African Association of Freight Forwarders (SAAFF) – South Africa
The Shipping and Forwarding Agents Association of Zimbabwe (SFAAZ) – Zimbabwe
We would like to seize this opportunity to announce that the 51st validation/re-validation session is just around the corner and will kick-off next week thanks to the endless support of Task Force 1 of the FIATA Logistics Institute. FIATA's mission to continually provide access to education and training at high standards remains a priority. Stay tuned!
Agenda
Upcoming events:
20-22 June ¦ WCO-PSCG Meeting, Brussels
30 June ¦ FIATA General Meeting