Verticalisation and its consequences for freight forwarders
FIATA e-flash
28 April 2022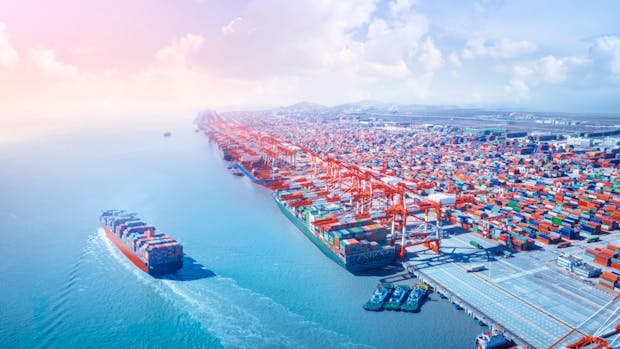 FIATA HQ Meeting line-up revealed!
In a communication released yesterday, FIATA unveiled the contributors and the planned schedule of the FIATA HQ Meeting, which will take place on 17-20 May. 
UNCITRAL, UNECE, WTO, UNCTAD, ITC, UNESCAP, ICC, IATA, IRU, UIC, ICHCA, TT Club, Change Horizon, TIACA, the World Bank, DCSA, and Global Shippers' Forum will be be among the organisations represented with a variety of high-level representatives for numerous insightful and in-depth conversations. 
Don't miss this unique event! FIATA members are invited to register through one of the below links:
In-person: FIATA HQ Meeting - In-person Registration, Tue 17 May 2022 at 08:00 | Eventbrite
Online: FIATA HQ Meeting - Online Registration, Tue 17 May 2022 at 08:00 | Eventbrite
FIATA DG warns of the consequences of verticalisation at the Swiss-Italian Propeller Club Meeting
On 26 April, FIATA DG Dr Stéphane Graber took part in a Propeller Club webinar hosted by the Geneva Propeller Club in London, in coordination with the Propeller Clubs of Basel and Italy. The topic of the webinar was:
The new challenges of logistics and maritime economy, with the questions addressed: 'is there a future for the small and medium size freight forwarder?', and 'which challenges are faced to survive in a world of globalisation and the vertical integration of big carriers into forwarding?'.
Dr Graber, who was a panel member alongside key speakers Jan Hoffmann of UNCTAD and Alessandro Panaro of the SRM – Associazione Studi e Ricerche per il Mezzogiorno, presented on 'Competition in the Maritime Transport Sector'. He spoke on behalf of the Freight Forwarding community about the maritime crisis, the continued with the 'Relevance of Multimodal Freight Forwarders in an Increasingly Oligopolistic Industry', the negative consequences of unfair competition by shipping lines, and the importance of avoiding digital monopolies in the supply chain, while calling for a better collaboration and connectivity between all stakeholders active in logistics.
In the context of great uncertainties for maritime logistics, more than ever, Freight Forwarders play a key role in optimising the supply chain and facilitating trade. Dr Graber highlighted 'Freight Forwarders are the guardians of the transport and logistics industry, they provide for an efficient and diversified supply chain, where their experience places them in the best position to effectively respond to customer needs by organising multimodal options, offering optionality to customers, market access to SMEs and using their long-term relationships to provide financial stability, reliability and strong business models.'
TODAY - First session to better understand the evolution of the maritime market structure and competition!
FIATA, in partnership with the Global Supply Chain Classroom, has been organising a three-part webinar series on the critical topic of 'Market Structure and Maritime Competition', as part of FIATA's ongoing efforts to address the maritime supply chain crisis.
Session 1 and 2, scheduled for 28 April 2022 (today!) and 10 May 2022, will be online lectures delivered by top academic and industry experts which aim at providing in-depth background and historical knowledge.
Session 3, taking place on 20 May 2022 in hybrid format, will feature a high-level panel offering insight into possible solutions to tackle the crisis.
DON'T WAIT to register to get the keys to the future of the supply chain!
More information on the webinar series can be found here! Register here!
Greater international cooperation needed on subsidies data, analysis and reform, according to recent WTO report
According to a recent report published by the WTO, greater international cooperation is needed to improve information and analysis on subsidies and their impact, which would support efforts to strengthen subsidies disciplines and reduce trade frictions arising from their use. Teams from the International Monetary Fund, the Organisation for Economic Cooperation and Development, the World Bank and the WTO worked together on the piece, where they call for more transparency, openness and predictability with regards to global trade.
"Subsidies appear to be widespread, growing, and often poorly targeted at their intended policy objectives," it states. "Beyond raising economic efficiency concerns, this situation is spurring the use of unilateral trade defense measures, eroding public support for open trade, and contributing to severe trade tensions that impede progress on other global trade priorities."
"Governments should work expeditiously to clarify and strengthen international disciplines around subsidies while recognizing the important roles that well-designed subsidies can play in some circumstances," the report adds. 
In the wake of the Chinese lockdowns, global logistics set to plunge
As the Shanghai and Yangtze River Delta ports face continued uncertainty, questions are arising on the production of goods from the region, and the effect this is having on global supply chains. Cargo ships are leaving the ports largely unfilled. Once the issue is solved, cargo volume surges will see a reversal in supply and demand, and tariffs will rise, notes Stéphane Defives, Seafreight Director for France at Kuehne + Nagel.  Smaller ports will not make suitable diversion ports due to the size of the giant container ships, and exporters being linked to specific customs offices.
19 cancelled trips have been recorded by shippers between Asia and the Mediterranean for May, which is a bad sign, says Anne-Sophie Fribourg, President of the Maritime Commission TLF Overseas and Director of Maritime Development of Bolloré Logistics. Ms Fribourg also said that the expected export volumes for April from the giant ports in central China (Shanghai and Ningbo-Zhoushan), were down 50%.
More on this topic can be found here.
IMF: reshoring leaves a country more exposed to shocks
Research carried out by the International Monetary Fund has found that domesticating production can leave the supply chain open to risks and more shocks. As anticipated, rather than buying services, consumers tended to products, which boosted imports. Exporters who ended lockdowns promptly also saw big market share increases, said The Economist.

Diversification is the proposed approach to such a pandemic situation, rather than reshoring, which many governments resorted to. 69% of goods components in Europe, and more than 80% in the western hemisphere are produced domestically, said the report. Reshoring would reduce the diversification of a supply chain rather than improve it, and focusing production in a single country could prove damaging.
UK government plan to digitalise trade documents in update of archaic law
Up to now, the British government has had archaic shipping laws in place when it comes to using paper documents. Change lies on the horizon as a source shared that the Department for Digital, Culture, Media & Sport had submitted proposals for legislation on including electronic trade documents, which FIATA is pleased to hear, after a long-running project to digitalise Bill of Lading.
The Queen will announce the change in her speech next month, in this long-awaited update which has seen an 1882 law carried through to today. The International Chamber of Commerce has already estimated an income of £25 billion by digitalising trade documents.
Read more about this story here.
Agenda
Upcoming events:
25-29 April ¦ UNCTAD eCommerce Week
28 April 12:00-13:00 CEST ¦ Webinar series on market structure organised by FIATA
10 May ¦ Webinar series on maritime crisis solutions organised by FIATA
17-20 May ¦ FIATA HQ Meeting 2022, Geneva with the participation of all FIATA Association members, their delegates and FIATA international partner organisations 
30 June ¦ FIATA General Meeting